Add: North Tower,Beiming Ruanjianyuan, No. 1,Sicheng RD., Tianhe District, Guangzhou City, China.
Tel: 020-85207885
Fax: 020-85207857
Email: ray@gdttr.com
Scanning gun
Your position: Home > Scanning gun
ZEBRA DS3508 Industrial bar code scanner
Brand: Zebra/Zebar
Model: ZEBRA DS3508
Product description: ZEBRA DS3508 Industrial bar code scanner
Product introduction
Product Overview
Zebra DS3508 series of rugged roped omnidirectional 1D/2D image scanners achieve high-performance data acquisition in harsh industrial environments. Using breakthrough digital imaging technology, high-performance data acquisition in the industry environment. With breakthrough digital imaging technology, this series of scanners can collect 1D/2D barcode, image and direct component marking (DPM) very quickly and accurately, and support IUID. The integrated Bluetooth technology provides cordless freedom and improves work efficiency. There are three models:
Zebra DS3508-SR: 1D/2D barcode; image acquisition
Zebra DS3508-HD: 1D/2D barcode; optimized for very small high density 2D barcode; image acquisition
Zebra DS3508-DP: 1D/2D barcode; DPM marking; IUID support
Readable 1D and 2D barcodes
Increased efficiency by providing devices that can read all industry standard barcodes
Powerful 624 MHz processor, fast sensor shutter and patent pending fast pulse lighting
Excellent performance in collecting one-dimensional and two-dimensional barcodes, thus improving work efficiency in various applications
Support for IUID (DS3508-DP only)
You can understand the IUID structure and automatically isolate and send the required information to your application
High density bar code can be collected (DS3508-HD only)
The user can read high density 2D barcodes except all industry standard barcodes, which increases work efficiency.
Can read all kinds of DPM markings (DS3508-DP only)
Enhanced high-quality processing and improved traceability of life-long warranty products
Excellent fault-tolerant function in sports
It achieves amazing scanning speeds for all barcodes, improves throughput and efficiency - even in any application.
Unique aiming mode
A bright central laser spot ensures fast and accurate scanning -- even in bright sunlight.
Omnidirectional scanning
There is no need to align the bar code with the scan line, thus speeding up the reading time.
Strong and durable design to withstand multiple shocks falling from 6.5 feet/2 meters to cement floor
To ensure maximum reliability by reducing downtime caused by accidental falls
Compliance with IP65 Sealing Standard
Waterproof and dustproof to ensure reliable performance under harsh industrial conditions
Integrated image acquisition and transmission functions
By integrating the technologies required for image acquisition and transmission, the costs associated with running and maintaining multiple devices are reduced.
Multiple on-board interfaces and common cable Suites
Ensure flexible connection with different hosts; easily upgrade host and cable replacement; provide investment protection
Bright LED indicator and adjustable volume buzzer and vibration pager
Multiple confirmation modes for active user feedback in noisy environments
Advanced data formatting
No costly modification of host software
Support 123 Scan2 Scanner Configuration Tool
Through the free PC software tool based on the wizard, we can achieve fast and easy customization.
Support RSM (Remote Scanner Management)
Implementing remote management from a centralized location helps reduce IT expenditure and total cost of ownership (TCO)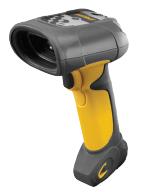 technical parameter

Physical parameters

Size: 18.65 cm high x 12.25 cm long x 743 cm wide

Weight (excluding cables): 11.85 ounces/336 grams

Voltage and current: 5V + 10%, 330mA

Colour: Light black/yellow


performance parameter

Light source: focusing 650 nm visible laser diode, illuminating 630 nm visible laser diode

The field of view of the imager: standard range focusing 39.6 degrees (horizontal)*25.7 degrees (vertical); high density focusing 38.4 degrees (horizontal)*24.9 degrees (vertical)

Rotation angle: 0-360 degrees

Tilt Angle: +-60 Degree

Migration perspective: +-60 degrees

Mobile fault tolerance: For 100% 13milUPC up to 1.52 m/s, the effect of mobile fault tolerance depends on the type of barcode, scanning distance and printing quality.

Decoding capability

One-dimensional codes: UPC.EAN, UPC.EAN with Supplementals, UCC.EAN 128, JAN 8 & 13, Code 39, Code 39 Full ASCII, Code 39 Trioptic, Code 128, Code 128 Full ASCII, Codabar (NW7), Interleaved 2 of 5, Discrete 2 of 5, Code 93, MSI, Code 11, Code 32, Bookland EAN, IATA, UCC/EAN RSS and RSS varia NTS

Two-dimensional codes: PDF417, microPDF417, MaxiCode, Data Matrix (ECC 2000), Composite Codes and QR Code

Postal codes: U.S. Postnet, U.S. Planet, U.K. Postal, Japan Postal, Australian Postal and Dutch Postal

DPM marking: Machine-typed Datamatrix marking (DS3508-DP only), all of the above supported bar code types made on metal, plastic, rubber or glass surfaces by laser etching, chemical etching, inkjet marking, casting, die pressing or casting, etc.

IUID support: supports IUID parsing, and the performance of reading and separating IUID fields depends on the requirements of specific applications.


Use environment

Working temperature: - 4 F to 122 F/- 20 C to 50 C

Storage temperature: - 40 F to 140 F/- 40 C to 60 C

Humidity: Relative humidity 5% to 95%, no condensation

Seismic Ability: It can keep normal function after falling repeatedly from 6.5 feet/2 meters to cement ground.

Light resistance: It can resist natural light and artificial light (i.e. sunlight, incandescent light, fluorescent light, mercury light, nano light)

Sealing level: IP65

Electrostatic Discharge: 20 kV Air Discharge and 8 kV Contact Discharge

Interface

Supported interfaces: USB, RS232, RS485, keyboard interface


Option

Holder (hanging on trousers or belt); Smart bracket (hand-free scanning); Balancer Pulley (hanging rope)


DS3508 decoding region:

Label density DS3508-SR DS3508-HD/DS3508-DP

Code39-3mil does not apply to 27.9mm-40.6mm

Code39-4mil 66mm-114.3mm contact-88.9mm

Code39-5mil 25.4mm-160mm contact-106.7mm

Code39-7.5 ml Contact-256.5 mm Contact-137.2 mm

Code39-20mil 25.4mm-530.9mm 27.9mm-233.7mm

100% UPC-13mil 22.9mm-383.5mm; 20.3mm-157.5mm

PDF417-6.67 mil 68.6 mm-154.9 mm contact-94 mm

PDF417-10mil 10.2mm-236.2mm contact-114.3mm

PDF417-15mil 83.8mm-375.9mm 81.3mm-142.2mm

Data Matrix-4mil does not apply to 25.4mm-53.3mm

Data Matrix-5 ml does not apply to 10.2 mm-68.6 mm

Data Matrix-7.5 ml 53.3 mm-139.7 mm contact-88.9 mm

Data Matrix-10mil 27.9mm-180.3mm contact-111.8mm

QR Code-4mil does not apply to 27.9mm-35.6mm

QR Code-5 ml does not apply to 12.7 mm-55.9 mm

QR Code-7.5 ml does not apply to contact-83.8 mm

QR Code-10mil 38.1mm-154.9mm Contact-101.6mm