Add: North Tower,Beiming Ruanjianyuan, No. 1,Sicheng RD., Tianhe District, Guangzhou City, China.
Tel: 020-85207885
Fax: 020-85207857
Email: ray@gdttr.com
ZEBRA
Your position: Home > ZEBRA
Zebra ZD510-HC Printer
Brand: Zebra/Zebar
Model: ZEBRA ZD510 -HC
Resolution: 300 dpi
Product description: Zebra ZD510-HC Printer
Product introduction
Product Overview
Zebra ZD510-HC Wristbelt Printer Solution
Commit your wristband printing to an expert
Zebra ZD510-HC wristband printing solution combines reliable Zebra ZD510-HC thermal printer and easy-to-load wristband box, which can print the unique anti-bacterial coated wristband on the market-Zebra Z-Band*. It can also print wristbands in amusement parks, water parks and entertainment places. It is a more reliable wristband printing solution in the industry, which can improve the efficiency of medical staff and make patients safer.
There is little need for training.
Zebra ZD510-HC is a very simple wristband printer on the market. The wristband box with Zebra Z-Band wristband can be printed directly. The printer will immediately identify the size of the wristband and automatically configure the printing depth and speed settings to achieve better printing quality.
ZEBRA Z-BAND Wristband, Excellent Quality
Z-Band wristband has been specially designed, manufactured and strictly pre-tested to provide better image durability and scanning performance. The wristband can resist the erosion of hand sanitizer, and has a variety of sizes, softness and color.
Easy to clean
Zebra ZD510-HC printer's anti-disinfectant and anti-ultraviolet shell is designed to deal with routine irritant chemical disinfectants and ultraviolet light, which helps prevent bacterial proliferation and make patients safer.
technical parameter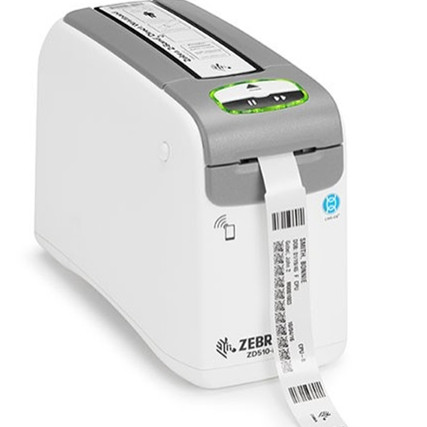 Print Width
0.74 inches/19.05 mm
1 inch/25.4 mm
1.1875 inches/30.16 mm
Maximum printing speed
2 inches/51 mm/s (medical wristband)
4 inches/102 mm/s (Z-Band Fun and Z-Band Splash wristbands)
communication mode
USB Host, USB, Ethernet, Low Power Bluetooth (Standard) Factory Installation of Infinite Dual RF: 802.11ac Wi-Fi and Bluetooth 4.1 (optional)
Printing resolution
300 dpi/12 points/mm