Add: North Tower,Beiming Ruanjianyuan, No. 1,Sicheng RD., Tianhe District, Guangzhou City, China.
Tel: 020-85207885
Fax: 020-85207857
Email: ray@gdttr.com
ZEBRA
Your position: Home > ZEBRA
Zebra ZP888 Thermal Bar Code Printer
Brand: Zebra/Zebar
Model:ZEBRA ZP888
Printing Method: Thermal Printing, Bar Code, Text and Graphic Printing
Resolution: 203 DPI
Product description: Zebra ZP888 Thermal Bar Code Printer
Product introduction
Product Overview
Intuitive and Reliable Initial Printing
Whether you want to make transportation Labels for order execution or picking Labels for warehouse, ZP888 4 inch thermal printer can provide you with reliable and professional printing, so that your operation can proceed smoothly. As Zebra's entry-level desktop printer, ZP888 can meet any budgetary needs of you and is intended to be used to a greater extent. With Zebra's excellent quality, durability and reliability, you can rely on ZP888 to meet the daily Label printing needs of enterprises.
Reliable quality and reasonable price
The price competitive ZP888 thermal printer can provide high quality and durable product performance for low and medium print volume label printing applications. Its dual-wall structure and all-metal printing head can help reduce the downtime of printers and reduce the need for printers to replace parts during their service life.
Reliable solutions to meet your transport label requirements
The 4-inch ZP888 is an ideal solution for printing transportation, receiving and picking labels. It is compatible with the Chinese version of the third-party transport logistics software and the free Zebra Designer Pro for ZP888 software, making tag design easier.
Easy to operate
The intuitive ZP888 was designed for ease of use from the beginning. Simply install the printer driver on the PC and connect the USB cable. Since the dielectric bracket is specially designed for 4-inch labels, no configuration is required for simple dielectric installation.
Maximum print width
4.09 inches/104mm
Printing resolution
203 dpi/8 points/mm
Maximum printing speed
6 inches/152 millimeters/seconds
Dielectric sensor
Transport type
communication mode
USB 2.0
technical parameter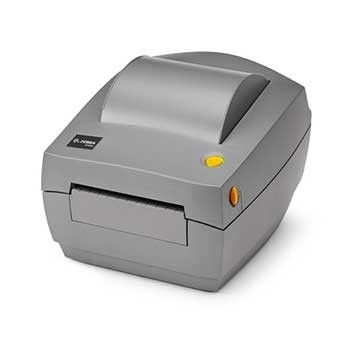 Zebra ZP888 Bar Code Printer
Standard characteristics
Printing: Thermal Printing, Bar Code, Text and Graphic Printing
32-bit RISC processor
Communications: USB 2.0
Microsoft < Windows < Driver
OpenACCESS
* Easy media installation
* Tri-color status LED can quickly view printer status
* USB cable
Physical parameters
Size 7.9 inches wide x 6.7 inches high x 8.2 inches thick
201 mm high x 170 mm wide x 208 mm thick
Weight 3.0 lb/1.4 kg
Printer Specification
Resolution 203 dpi/8 points/mm
Memory 8 MB SDRAM
Maximum print width 4.09 inches/104mm
Maximum print length 9 inches/228.6 mm
Maximum print speed 6 inches/152 millimeters/seconds
Medium Sensor Transmission Type
Medium properties
The dielectric width ranges from 3.39 inches/86 mm to 4.21 inches/107 mm.
Medium length 1.0 inches/25.4 mm to 9.0 inches/228.6 mm
Maximum medium
Roll size
5 inches/127 mm (outer diameter), 1.00 inches/25.4 mm,
1.5 inches/38mm (core diameter)
The dielectric thickness ranges from 0.0055 inches/0.14mm to 0.007 inches/0.18mm.
Medium Type - Roller Paper or Folding Paper
Labels with notches (die-cut paper, heat sensitive)
Environmental Science
Operating temperatures ranging from 40 to 104 degrees F/5 degrees C to 40 degrees C
Storage temperature - 40 F to 140 F/- 40 C to 60 C
Relative humidity of 10% to 90% (without condensation)
Storage humidity 5% to 95% (without condensation) relative humidity
Software
Zebra Designer Driver Powerful Printer Driver for Windows Operating System
Active Procedure
Zebra Designer Pro for ZP888 - An intuitive and easy-to-use software program for creating complex labels
Signature design; Chinese user interface
Signal communication
USB 2.0 interface, bidirectional (including cable)
electrical
Automatically detectable external power supply with integrated power cord
Output: 24V DC, 2.5A; Input: 220-240V AC, 50-60Hz
Font/Graphics/Recognition Code System
Various bar codes supported by Zebra Designer Pro:
Bar Code Ratio - 3:1
One-dimensional barcode-Code 11, Code 39, Code 93,
Code 128A, B and C (user optional/automatic), UCC/EAN128, Code
128, UPC-A, UPC-E, EAN-8, EAN-13,
EAN-14, UPC-A with EAN 2-bit or 5-bit digital extensions
And UPC-E, UPC-E with 2-bit and 5-bit digital extensions,
Plessey, POSTNET, Standard 2 of 5, Industrial 2
Of 5, Interleaved 2 of 5, LOGMARS, MSI,
Codabar, GS1 DataBar ("RSS"),
Postnet (5-bit, 9-bit, 11-bit and 13-bit), Japan
Postnet, Plessey (MSI-1), MSI-3, German Post
Code, RSS-14 (Definition, Truncation, Cascade)
Two-dimensional barcode - PDF417 (MicroPDF-417 and PDF-417)
MacroPDF-417, Code 49, Maxicode,
Codablock, Data Matrix, QR Code, Aztec
Font and Graphic Font - True Type Font Supported by Windows
Graphics - file types of. bmp,. jpg,. png,. emf,. PCX
With Windows compatible printer driver, you can print applications through a series of labels
Printing
Compatible Printer Driver with Third Party Transportation and Logistics Software through Windows 10
compa
tible
Institutional certification
CCC
List of items in packing box
Printers, AC power supply with integrated power cord, USB cable, Quick Start Guide, Supervision Guide