Add: North Tower,Beiming Ruanjianyuan, No. 1,Sicheng RD., Tianhe District, Guangzhou City, China.
Tel: 020-85207885
Fax: 020-85207857
Email: ray@gdttr.com
Products
Your position: Home > Products
Zebra MC3390R long-range UHF RFID mobile terminal
Brand: Zebra/Zebar
Model No: ZEBRA MC3390R
Product description: Zebra MC3390R long-range UHF RFID mobile terminal
Product introduction
Product Overview
The zebra Zebra MC3390R remote RFID handheld reader can provide greater efficiency and accuracy for inventory management, order fulfillment, and distribution. The integrated long-distance antenna supports a first-rate RFID reading range, coupled with Zebra's high-performance ASIC RF technology, which can provide higher processing capacity to complete inventory inventories faster and more accurately. Zebra MC3390R uses Zebra's iconic durable design, designed for semi-industrial environments, while taking into account lightweight, ergonomic features to ensure comfortable use throughout the day. The large touch screen, physical keyboard and Android operating system can provide intuitive and flexible platform for your RFID application needs today and in the future.
First-class RFID read range
With Zebra MC 3390R, you will get excellent RFID performance. The integrated long-range antenna can scan RFID tags 60 feet / 18.2 meters away. Zebra's high-performance ASIC RF technology provides a reading rate of more than 25 % faster than other devices in the same product, and the accuracy of Gaochu 40*. (* Zebra test results based on specific use cases)
Flexible development tools designed to reduce overall ownership costs
Simplifying the full roll-out of our Enterprise Mobile Development Toolkit(EMDK) and RFID Software Development Toolkit(SDK)-MC3390R shares the same RFID software development suite with other Zebra handheld RFID readers. Our EMDK simplifies enterprise application programming to achieve a faster and more cost-effective development cycle, while RFID SDK allows you to use RFID applications you developed for other Zebra RFID handheld devices on Zebra MC3390R.
A lightweight, durable and ergonomic design
Zebra Zebra MC3390R is durable and can be used all day, with a drop specification of 5 ft. / 1.5 M, sealed with IP54 class to prevent splashing liquids and dust, The touch panel and imaging window of Corning Gorilla Glass provide better scratch resistance and anti-breakage performance. The MC3390R is one of the very lightweight UHF RFID readers in the same product. It is designed for easy one-handed use and can be easily driven by either the right hand or the left hand.
Employees do not need to use different devices to scan RFID tags and bar codes -- both can be scanned with MC3390R. Select Standard Range Scan Engine or Ultra Distance Scan Engine to scan 1D/2D bar codes ranging in range from 3 inches / 7.62 cm to 70 feet / 12.4 M. The high-capacity, field-replaceable PowerPression + battery can last more than five hours. With first-class processing capabilities and memory, the MC3390R can provide excellent performance in harsh environment applications.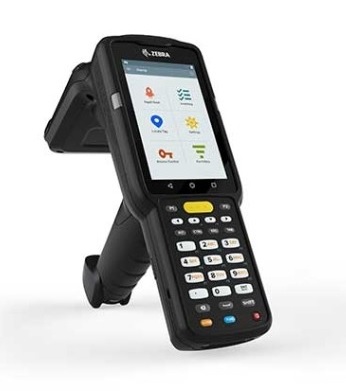 Technical parameters
Physical parameters
Size 6.45 inches long x 3.78 inches wide x 10.67 inches deep
164 mm long x 96 mm wide x 271 mm deep
Weight(with hand strap) MC3390R with SE4750: 26 oz. / 740 g
MC 3390R with SE4850: 27 oz. / 765 g
Display 4.0-inch capacitance; WVGA; colour
Imager Window Corning Gorilla Glass
Touch screen Corning Gorilla glass touch screen with air gap
Backlight LED Backlight
Extended slot Micro SD card slot, up to 32 GB
Network connection USB 2.0 high-speed(host and client), WLAN and
Bluetooth
Notify side LED indicator and tone
Keyboard numbers(29 keys), functional numbers(38 keys), letters
Word(47 keys)
Voice PTT speech support(built-in speaker)
Audio speaker
Performance parameters
CPU Qualcomm 8056 1.8 GHz Six Core 64 bit, with
Power consumption optimization
Operating system Android 7.0(Nougat)
GMS: Global
AOSP: China and Israel only
Memory 4GB / 32GB
Power Power Presion + Lithium Battery 5200 mAh,
Support, charge.
User environment
Operating temperature -4 °F to 122 °F / -20 °C to 50 °C
Storage temperature -40 °F to 158 °F / -40 °C to 70 °C
5 % to 95 % relative humidity(no condensation)
The drop specification is within the entire operating temperature range and can withstand multiple times from 5 E
Impact of falling to concrete floor at a height of 1.5 m/m
Rolling specifications can withstand 1,000 rolls from 1.6 ft. / 0.5 M
shock
Seal Level IP54
Vibration 5Hz to 2KHz
Thermal impact-40 °F to 158 °F / -40 °C to 70 °C
Electrostatic discharge
Discharge(ESD)
+ / -20 kV air discharge, + / -10 kV contact discharge
Interactive Sensor Technology(IST)
Motion sensor 3-axis accelerometer; gyroscope
RFID
Supported standard EPC Class 1 Gen2; EPC Gen2 V2; ISO 18000-63
RFID engine Zebra patented RF technology
Fastest read rate 900 + tab per second
Nominal reading range ~ 60 + ft. / about 18.2 + M
RFID power output 0 dBm to +30 dBm
RFID antenna type integration and line polarization
Frequency range 865-928 MHz
:: Support has been provided for the identification of specific areas based on selected countries/areas
And national settings
Bar code scan
SE4750MR imager with laser line of sight for scanning engine
SE4850 Long-range imager
connection
RF 802.11 a / b/g/n / ac/h/i / k/r / W
Data rate 2.4 GHz: 144 Mbps
5 GHz: 867 Mbps
Working Channel(depending on
Legislation)
2.4 GHz: 1 to 13
5 GHz: 36, 40, 44, 48, 52, 56, 60, 64,
100, 104, 108, 112, 116, 120, 124,
128, 132, 136, 140,(144), 149, 153,
157, 161, 165
Secure and Encrypted WEP, WPA/WPA2 PSK, WPA/WPA2 Enterprise Edition
Certified 802.11 n/ac, WMM-PS, WMM-AC, PMF,,
Voice Enterprise, Wi-Fi Direct, WPS
Fast roaming PMKID/OKC/CCKM / 802.11 R
Bluetooth v4 .1, v2 .1 + EDRw / Low Power Bluetooth(BLE)
accessories
Single slot communications seat, with spare battery charger; 4 slots for charging only, with 4
Plug battery charger; 4 slot Ethernet communications seat, with 4 slot battery charger; 5 insert
The slot only charges the communication seat; 5 slot Ethernet communications seat