Add: North Tower,Beiming Ruanjianyuan, No. 1,Sicheng RD., Tianhe District, Guangzhou City, China.
Tel: 020-85207885
Fax: 020-85207857
Email: ray@gdttr.com
ZEBRA
Your position: Home > ZEBRA
Zebra ZC 100 Card Printer
Brand: Zebra/Zebar
odel NO: ZEBRA ZC 610
Resolution: 300 dpi
Product description: Zebra ZC 100 Card Printer
Product introduction
Product Overview
New generation Zebra ZEBRA ZC100 Card Printer Single Card Printing
As one of the highly intuitive and easy-to-use card printers on the market, the Zebra ZC100 card printer can automatically adapt to the thickness of any card. Its innovative design can make carbon belt replacement almost foolproof. The new printer driver provides a unique graphical user interface. This provides unprecedented simplicity in controlling the printing process. Print DNA provides a series of high-value solutions that make it easier than ever to integrate card printing into applications, design cards, and support printers.
Whether you need to print a single-sided employee ID card, membership card and event VIP card, card printing is crucial to your business. The flexibility to deploy, and the timing of printing and managing card printing solutions will affect your business from brand image to employee productivity to overall operating efficiency. Now we have a new card printer to solve all the problems -- the ZC100. The Zebra ZC100 card printer provides you with groundbreaking simple operations and ingenious designs that are applicable everywhere. It also provides a toolbox with additional features that can be more easily integrated, used, and managed. ZC100-Only first-rate single-sided card printers can do this.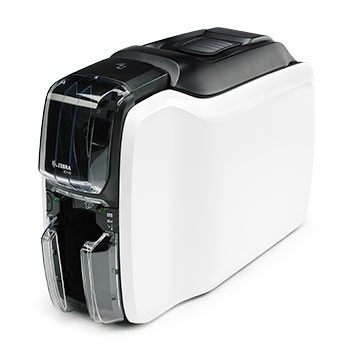 Subversive simplicity

Zebra ZC100 card printer with plug and play deployment, instant card input adjustment, intuitive icons and driver interface, easy to integrate, use and manage. Carbon belt replacement is almost infallible, and the revolutionary innovative slot design allows the loading and unloading card to be simpler than before.

Design applicable everywhere

Although the Zebra ZC100 card printer is designed for use in enterprises, it has a consumer product look that is suitable for customer-oriented areas, from corporate offices to universities to retail
stores.
Advanced security features

The advanced security features of the Zebra ZC100 card printer support printer authentication to the host, helping to prevent unauthorized printing; Government encryption, on the other hand,
protects more sensitive data during printing.

Technical parameters

Standard Functions

• 300 dpi(11.8 dots/mm) print resolution

• 2 GB flash memory

• Image size: 1006 x 640 pixels

• Automatic ribbon correction

• USB 2.0 connection

• Self-tuning card slot(30 mil) for 100 cards

• 30 mil card slot for 100 cards

• Support for manual card entry with LED belt slot

• 3 tricolor printer status indicators

• Kensington & Reg; & Reg; safe lock slot

Printer-Host Equipment Authentication and Data Encryption

• Print Touch NFC tag and Quick Help QR code to support access to printer online help and document access

• Two years of unlimited warranty for printers and headers
Print Specifications
• Dye sublimation heat transfer DTC(directly printed to the surface) method

• Full color or monochrome printing

• Single-sided printing

• Range printing(standard CR-80 medium)

Print throughput(card / hour) is based on bulk printing(with USB connection). The number of prints varies with the computer configuration.
single face
YMCKO Full Color Printing: 150 K/h

Monochrome printing: 700 calories per hour

Media Specifications

Supplies specification:

Note: The ZC100 printer needs to be used with the Zebra genuine ribbon.

The ribbon is contained in an easy-to-load cartridge.

Color tape indication ink cartridge printable image count
YMCKO * 200
1/2 YMCKO * 400

Black monochrome * 2000

Black monochrome 1500

White monochrome * 1500

Red monochrome 1500

Blue, monochrome, 1500.

Gold monochrome 1500

Silver, monochrome, 1500.

The availability of ribbon may vary from region to region.

• Zebra smart technology automatically detects and validates ribbons

• Each ribbon contains cleaning rolls.

• Two cleaning kits available: two(2) or five(5) isopropanol cleaning cards(1,000 pictures per card)

Card compatibility:

Note: It is recommended to use the Zebra genuine consumables to ensure better print quality and printer performance.

• Card thickness: 10 -- 40 mil

Card Size: CR 80 ISO 7810 ID-1 Format, CR79

Card materials: PVC and PVC composites

• Cover and back card

• Only at thickness & lt; 20 mil card and CR79 card on the special color or monochrome printing operation characteristics environment

Operating temperature:

59oF to 95oF / 15oC to 35oC

Operating humidity: 20 % to 80 %(non-condensing)

Media storage:
-Temperature: 41oF to 77oF/5oC to 25oC

Humidity: 35 % to 65 %(non-condensing)

Electrical specifications

• Automatic switching of single-phase alternating current

• Scope of operation: 90 -- 132 VAC and

190 -- 264 VAC RMS
• Frequency range: 47 -- 63 Hz
• FCC A category

Physical parameters size weight
10.2 inches(long) x 6.2 inches(wide) x 15.1 inches(high)

258 mm(long) x 157 mm(wide) x 383 mm(high)8.6 lbs.(3.9 kg)
Communication and interface functions

USB 2.0-Standard

Built-in 10/100 Ethernet-optional

802.11 AC(MFi authentication)-optional

Encoding Options and Specifications

Magnetic strip encoder-ISO 7811(new and pre-coded; Code Road 1, 2 and 3; Gao Jianli and

Low coercive force; Magnetic strip downward; Card thickness is only 30 mil)
*Third party non-contact encoder integration kit
* Selected site upgrades