Add: North Tower,Beiming Ruanjianyuan, No. 1,Sicheng RD., Tianhe District, Guangzhou City, China.
Tel: 020-85207885
Fax: 020-85207857
Email: ray@gdttr.com
ZEBRA
Your position: Home > ZEBRA
ZEBRA ZTSix hundred and tenPrinter-Zebra ZTSix hundred and ten Label Printer
Brand: Zebra/Zebar
Model: ZEBRA ZTSix hundred and ten
Printing methods: thermal transfer printing and thermal printing
Resolution: Two hundred and threeDPI
Product description: ZEBRA ZTSix hundred and tenPrinter-Zebra ZTSix hundred and ten Label Printer
Product introduction
Product overview
Zebra ZT Six hundred and tenBar Code Printer's incomparable performance is sufficient to meet existing need
All-metal durable structured components are designed for all-weather high-strength use and can last for many years.
Use requirement
With built-in thermal management functions, dust and debris can be effectively prevented without ventilation and cooling fans.
Fault-free printing can be achieved even in challenging environments
High-quality printer systems and internal components are carefully designed to ensure excellent performance and reliability
High-resolution printing for micro-tags can provide excellent quality for high-precision applications
Long-life printer heads reduce replacement costs and help reduce printer downtime
Pressure toggle with scale and color indication
Show, simplify printer setup and operation
Zebra ZTSix hundred and tenBar Code Printer User-friendly for Daily Operations
Simple and intuitive side media installation helps to ensure the normal and efficient use of printers and
Reduced training requirements
High visibility color display will turn red when the printer is in the wrong state, enabling users to
Determining the state of the printer from a distance
Guided media paths change colors when media errors occur, thus providing a simple visual lift
Show to help users find and solve problems quickly
Colour graphics display with icon menu system and local language support helps to simplify daily operations
To achieve a better user experience
Built-in cabin lights can illuminate carbon bands and media paths to achieve better visibility
* Color-coded components make it easy to identify all contacts
With the help of two-dimensional codes linked to error-oriented help videos, the problem can be solved quickly.
Fast replaceable print heads simplify maintenance, use easy-to-plug sockets, and don't require wiring-simplicity
Easy to do
Convenient single-knob adjustment without affecting the medium can be achieved with the aid of the fused upper and lower dielectric sensors.
Location
Strong insight to build a smarter future
Link-OS Printer Profile Manager Enterprise enables administrators to move from a user friend
Good, browser-based interface to monitor networked Link-OS printers
Mobile Device Management Connector enables easy integration of networked printers
AirWatch or SOTI Device Management System
Link-OS Cloud Connect provides direct, encrypted and authenticated connections that can be printed
Machines are connected to clients or cloud-based servers
Zebra's visual services enable businesses to track and analyze printer status, performance and usage
Circumstances, thus promoting the improvement of business performance
Excellent adaptability for a better future
Optional advanced RFID coding features are easy to install and use
Field-mountable media handling options make full use of baffle-type connectors to facilitate rapid installation
Expanding Printer Function
Two USB Host ports make it easy to connect multiple peripherals flexibly
Two available communication slots facilitate the rapid and easy addition of connection options, including 802.11ac, and
Line, Ethernet, IPv6 and
Label
er Interface
Excellent Zebra Certified Consumables to Ensure Consistent Printing Quality
Printing consumables have an impact on everything from the life of the print head to operational efficiency. Precisely because
Therefore, we design, produce and strictly predict our own series of thermal printing consumables to ensure that
It achieves consistent optimum performance in your Zebra printer - to save you time
Worry. To obtain the leading quality, service and thermal printing technology in the industry, please select Zebra
Card consumables.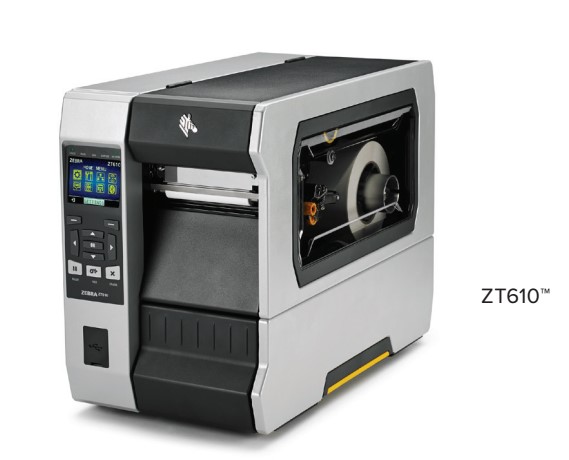 technical parameter

Standard Characteristics of Zebra ZT610 Bar Code Printer

Printing: thermal transfer and thermal printing

Fuselage design: metal frame and foldable metal dielectric cover with large clear windows

Side-mounted consumables path to simplify medium and carbon band installation

* Print heads using Element Energy Equalizer (E3) technology help achieve excellent printing

quality

Communications: High-speed USB2.0, RS-232 Serial, Gigabit Ethernet, Bluetooth 4.0

Highly intuitive color displays turn red when the printer is in the wrong state, enabling operators to

Enough to determine the state of the printer from a long distance

Simplified icon menu navigation system categorizes settings into different logical functional groups

Printer Specification of Zebra ZT610 Bar Code Printer

Resolution 203 dpi/8 points per millimeter

300 dpi/12 points per millimeter (optional)

600 dpi/24 points per millimeter (ZT610 optional only)

Memory 1 GB RAM memory

2 GB On-board Linear Flash Memory

Maximum print width ZT610:4.09 inches/104mm

ZT620:6.6 inches/168 mm

Maximum printing speed ZT610:14 ips/356 mm per second

ZT620:12 ips/305 mm per second

Dielectric Sensor Dual-dielectric Sensor: Transmitting and Reflecting

Maximum Continuous Printing Length ZT610

203 dpi: 150 inches / 3810 mm

300 dpi: 130 inches / 3302 mm

600 dpi: 30 inches / 762 mm

ZT620

203 dpi: 150 inches / 3810 mm

300 dpi: 100 inches / 2540 mm

Medium parameters of Zebra ZT610 Barcode printer

Medium Width ZT610

1.00 inch/25.4 mm to 4.5 inch/114 mm paper ripper/cutter

1.00 inch/25.4 mm to 4.25 inch/108 mm stripping/rollback

ZT620

2.00 inches/51mm to 7.0 inches/178mm paper ripper/cutter

* 2.00 inches/51mm to 6.75 inches/171mm stripping/rollback

Maximum dielectric roll size 8.0 inches/203 mm, core diameter 3 inches/76 mm

Thickness 0.0023 inches/0.058 mm to 0.010 inches/0.25 mm

Medium Type Continuous Paper, Die Cut Paper, Label Paper, Black Label Paper

Carbon band parameters (heat transfer option only)

Standard length 1476 feet/450 meters

Width ZT610:2.00 inches/51mm to 4.33 inches/110mm

ZT620:2.00 inches/51mm to 6.85 inches/174mm

Core inner diameter 1.0 inch/25.4 mm

Working parameters

Environmental working temperature:

Heat transfer: 40oF to 104oF/5oC to 40oC

Thermosensitivity: 32oF to 104oF/0oC to 40oC

Working humidity: 20% to 85% (without condensation)

Storage/Transportation Temperature: -22oF to 140oF/30oC to 60oC

Storage humidity: 20% to 85% (without condensation)

Electrical automatic testing (in accordance with PFC specifications) 90-265VAC, 47-63Hz, rated

250 W power, ENERGY STAR certification

Institutional Accreditation Standards IEC 60950, EN 55022 Class B, EN 55024, EN 61000-

3-2, EN 61000-3-3

CTUVus, CE Marking, FCC-B, ICES-003, VCCI,

C-Tick, NOM, S-Mark (Arg), CCC, CU, BSMI,

KCC, SABS, IN-Metro
Physical parameters

ZT610 (closed state) ZT620 (closed state)

Length 19.88 inches/505 millimeters 19.88 inches/505 millimeters

Width 10.56 inches/268.2 mm 13.44 inches/341.45 mm

Height 15.58 inches/395.68 mm 15.58 inches/395.68 mm

Weight 50 lbs/22.7 kg 57.4 lbs/26 kg

software tool

Link-OS Solution

Document Design (Document Design) - Visual Ready-to-Play Design Using Business Data and Zebra

Tools to quickly design custom printing solutions.

Device Integration - Applications and products provided by Zebra can help you to

Zebra devices are integrated into existing systems.

Device Management (Device Management) - With the help of Zebra's Device Management Toolkit, from local

Manage printing operations globally.

Developer Tools - Provides you with the tools you need to create your own applications.

Including documents, source code, programming language, templates and so on.

Web View

The printer is connected and controlled with ZPLII instructions on the printer web interface by common Web browsers.

Alert

Printers equipped with ZebraNet printer servers can support e-mail, wired or wireless

The equipment notifies you to minimize downtime.

firmware

ZBI 2.0'- An optional powerful programming language that enables printers to run independent applications and connect

Peripherals.

ZPL and ZPL II <-Zebra programming languages provide advanced label formatting functions and printer control.

Compatible with all Zebra printers.

Support for XML Printing - Allow XML communication, Bar Code Label Printing

Barcode type

One-dimensional barcode: Code 11, Code 39, Code 93, Code 128 with subsets A/B/C and

UCC Case Codes, ISBT-128, UPC-A, UPC-E, EAN-8, EAN-13, UPC and

EAN 2-or 5-digit extensions, Plessey, Postnet, Standard 2-of-5, Industrial

2-of-5, Interleaved 2-of-5, Logmars, MSI, Codabar, Planet Code

Two-dimensional barcode: Codablock, PDF417, Code 49, DataMatrix, MaxiCode, QR

Code, TLC 39, MicroPDF, RSS-14 (and composite), Aztec

Fonts and graphics

16 built-in scalable ZPL II bitmaps and two built-in scalable ZPL fonts

Scalable Smooth Lattice Fonts in Asia and Other International Countries

Unicode (): Suitable for Multilingual Printing

Downloadable objects include graphics, scalable and bitmap fonts, label templates, and formats

Through software control, IBM Code Page 850 international character set can be used for fonts A, B, C.

D, E, F, G and 0.

Code Page 1250, 1252, 1253, 1254, 1255 support font 0

Selections and accessories

Connect

Two available communication slots are used to add internals for 802.11ac, parallel, Ethernet and labeling machine interfaces

Card. IPv6 option as an external adapter attached to parallel ports

Medium processing

Revolving: Revolving the entire printed label inward to a 3-inch core, or stripping and rewinding the base paper

Paper Cutter: Forward Brake Cutter and Receiver Plate

1 inch core-wound dielectric feeder

Carbon tape supply shaft supports inner winding of carbon tape ink

RFID

Support tags compatible with the following protocols: UHF EPC Gen 2 V2, ISO/IEC 18000-63 and RAIN

RFID protocol

The integrated RFID system can be upgraded from the user site for 4-inch and 6-inch models.

Adaptive coding technology can automatically select the best coding settings

Keyboard Display Unit

ZKDU () Keyboard Display Unit for Independent Printing Applications