Product overview
Zebra 105SL Plus provides economical, efficient, stable and reliable high performance printing. Designed for continuous operation, this durable printer has the functions required for fast, reliable, economical and efficient printing in your manufacturing and storage environment.
Zebra 105SL Plus is designed with full consideration of ease of use. Icon-based multi-language graphical LCD user interface is very intuitive and easy to operate, which minimizes user training needs, making this printer an ideal choice for multi-language and global applications. Simplified carbon belt installation process minimizes downtime failure. 105SLPlus provides durable all-metal structure and powerful printer system, withstanding extremely harsh environment.
Zebra 105SLPlus makes full use of Zebra's proven electronic platform to improve the speed of mass applications - increasing the storage of formats, fonts and graphics. Element Energy Equalizer (E3) technology can prolong the life of printing head and provide excellent printing quality. 105SLPlus is designed to easily adapt to existing operations. Multiple standard connection options (including parallel, serial, USB and Ethernet) and full backward compatibility make integration fast and easy. To add an interface, you can choose an optional ZebraNet b/g print server for wireless support.
Zebra 105SLPlus Standard Characteristics:
Full Function Panel and Multilingual LCD Display with Backlight with User Programmable Password Protection Function
Thin film printing head using Element Energy Equalizer (E3) technology helps to achieve excellent printing quality
8 MB flash memory (including 2.0 MB non-volatile memory for storing downloaded objects and serial RS-232 and bidirectional parallel ports) with automatic detection function
USB 2
Dual Dielectric Sensors - Penetrating and Reflective, Selectable by Software or Panel
Built-in ZebraNet 10/100 Print Server - Supports 10Base-T, 100Base-TX and Fast Ethernet 10/100 Automatic Switching Network
Suitable occasion
Manufacturing: product identification
Label
s, packaging
Label
s, receiving/finishing
Label
s, in-process products
Transportation and Logistics: Order Sorting/Packaging, Delivery/Receiving, Direct Replacement, Compliance Label
Retail: Delivery, Return
Government agencies: asset tracking, compliance labeling, inventory labeling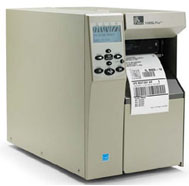 technical parameter

Printing specifications

Resolution: 203dpi (8dots/mm), 300dpi (12dot/mm) (optional)

Memory: Standard: 16MB SDRAM, 8MB Flash

Maximum print width: 102 mm

Maximum print length: 203dpi: 3810mm; 300dpi: 2540mm

Maximum printing speed: 203dpi: 12 inches per second (305 mm/s); 300dpi: 10 inches per second (254 mm/s)

Medium specification

Medium Type: Continuous Paper, Die Cut Paper or Black Label Paper, Concaved Paper

Dielectric Thickness (Labels and Linings): 0.003 inches/0.076 mm to 0.012 inches/0.305 mm

Maximum dielectric roll size: core outer diameter 8.0 inches/203 mm; core inner diameter 3 inches/76 mm

Media Width (Labels and Linings): 0.79 inches/20mm to 4.5 inches/114 mm

Maximum length of discontinuous labels: 39 inches/991 mm

Ribbon specification

Standard length: 1476 feet/450 meters or 984 feet/300 meters, providing 2:1 and 3:1 dielectric roll to carbon band ratio

Maximum Carbon Strip Roll Size: Core Outer Diameter 3.2 inches/81.3 mm; Core Inner Diameter 1.0 inches/25.4 mm

Carbon tape ink coiling facing outside

Carbon bandwidth: 0.79 inches/20mm to 4.33 inches/110mm

Working parameters

Working temperature 40 F / 5 C - 105 F / 41 C

Storage/transportation ambient temperature: - 40 F/- 40 C - 140 F / 60 C

Working humidity: 20-85%, no condensation

Storage humidity: 5-85%, no condensation

Electrical parameters

100-240 VAC, 47-63 Hz Universal Power Supply with Power Parameter Correction Function

Physical parameters

Volume: 393.7mm*261.9mm*517.5mm

Weight: 22.7 kg

Font/Graphics/Symbols

Zebra Global Printing Solution, including Unicode

Swiss 721 font standard

The dot matrix fonts A to H and GS symbols can be enlarged up to 10 times in height and width, respectively.

Scalable smooth font (CG Triumvirate bold compression font), height and width can be enlarged point by point, respectively.

IBM Code Page 850 International Character

UFST including Agfa Monotype Corporation

Firmware supports downloadable TrueType fonts

Additional fonts

Bar code type:

Linear barcodes: Code 11, Code 39, Code 93, Code 128 and UCC Case Codes with A/B/C subset, ISBT-128, UPC-A, UPC-E, EAN-8, EAN-13, UPC and EAN 2-bit or 5-bit extensions, Plessey, Postnet, Standard 2-of-5, Industrial 2-of-5, Interleaved 2-of-5, Logmars, MSI, Code abar, Planet Code

Two-dimensional barcode: Aztec, Codablock, PDF417, Code 49, Data Matrix, MaxiCode, QR Code, MicroPDF417, TLC 39, RSS-14 (and additional codes)

ZebraLink Solution

Optional software: Zebra Designer Pro; ZebraNet Bridge Enterprise; ZebraNet Setup Utilities V 7.0; ZBI 2.0 ZBI-Developer

Optional connection: ZebraNet b/g/n wireless print server (built-in)

ZPL II; Zebra Global Printing Solution; EPL2; Web View and Warning, ZBI 2.0 (optional)

Selections and accessories

Paper Cutter and Receiver Plate

Medium Rewinding Roll - Rewinding or Peeling of Used Paper through Lining Rewinding Roll

64 MB onboard linear flash memory (factory configuration only)

Scalable fonts and international fonts